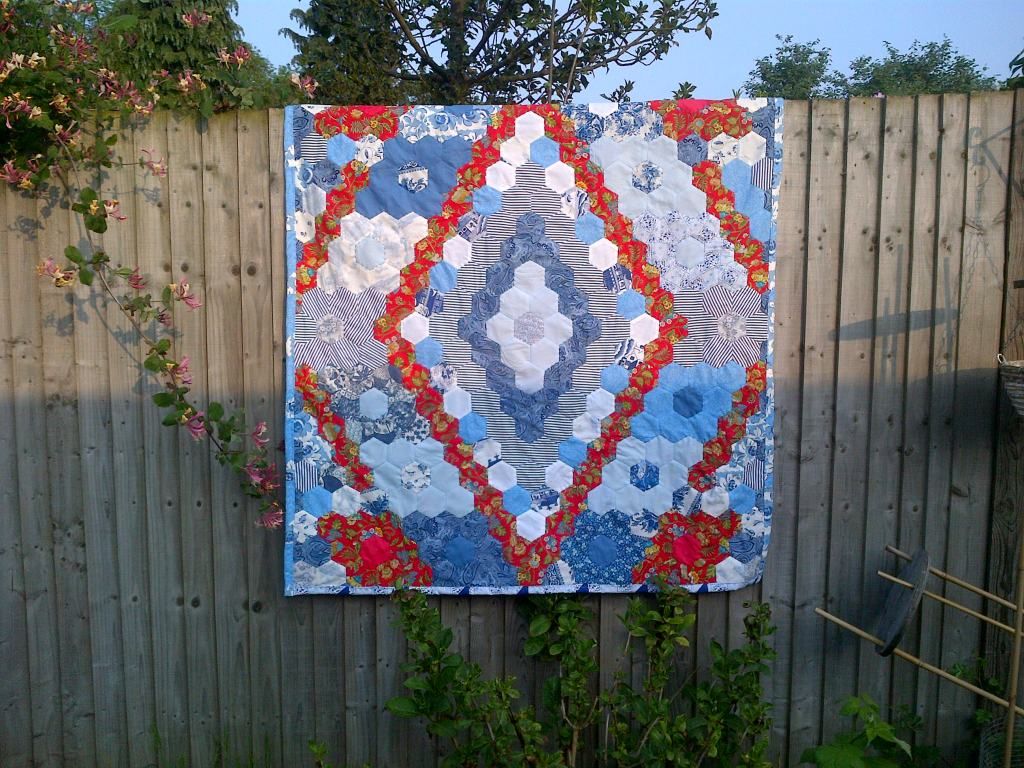 Inspired by all the red, white & blue that is everywhere at the moment I decided to sort out my stash of hexagons
Whenever I work on a project I keep every incy wincy scrap (because you never know when they could come in useful!) ..... in odd moments I sit and cut out hexis and store them in a box for when the fancy takes me to sit and hand stitch some more together.
I wanted to keep a little bit of randomness to the design and based the central diamond shape on a layout in an old quilt book.
There is a mix of vintage and contemporary fabrics ..... the blues are from a Clothworks collection, the stripe is from a shirt that my friend had ruined while trying to remove a stain (her husband hasn't noticed yet), the red floral is from a vintage dress acquired at a car boot a couple of years back
The blue rose fabric at the top is vintage Laura Ashley and the plain cottons are new Klona
Some Laura Ashley toile de jouy and a few pieces of Chinese Willow pattern
Another recyled blue paisley shirt
I didn't bother with wadding for a more lightweight summer throw and used plain blue cotton on the back. The outlines on the diamonds have been hand stitched with blue embroidery thread and some left over squares of the fabric machined together and cut to size to make the edge binding.
I do love it when a plan comes together ..... I've managed to reduce the stash again and make something out of nothing!
Ooh forgot to say that the paper pieces for backing the hexis were all ready cut .... I found a big bag of them at a vintage fair last year .... somebody had precisely cut them from 1970s greetings cards, reader's digest letters and envelopes so there was some interesting reading as I went along too.
Now for the next mission ..... watch this space x