I have never been a fan of new stuff and I hate modern shopping centres .... you can keep your MK, Westfields and Bluewaters .... yuk in my book!
This loathing began mainly out of necessity as with a family of six of us, a mortgage and me being at home (albeit I have always had PT jobs that fitted in around the children) we had to spend our pennies wisely. I found that by avoiding such places I wasn't tempted and anyhow it is much more fun bagging a bargain.
Which leads me on to this week's treasure from my online bargain hunting.
First this week was an old wing chair from Freecycle .... it belonged to the lady's gran and has been re-upholstered but I am chomping at the bit to make some loose covers for it .... don't know if I have the balls to strip it completely.
Here on the cover of the latest issue of Country Living magazine is something I may try and I'm thinking blue ticking or perhaps something a little more bizarre in shades of blue
I love this look and I am currently re-covering a couple of old ottomans for my friend using fabric samples in shades of pistachio and raspberry .... the samples are all different textures from satins to brocades to velvet to linen making it very tactile.
Next addition was an old sewing box from Freecycle .... battered and boring brown at the moment but I think some Annie Sloan paint and pretty fabric to replace the lining will give it a new lease of life.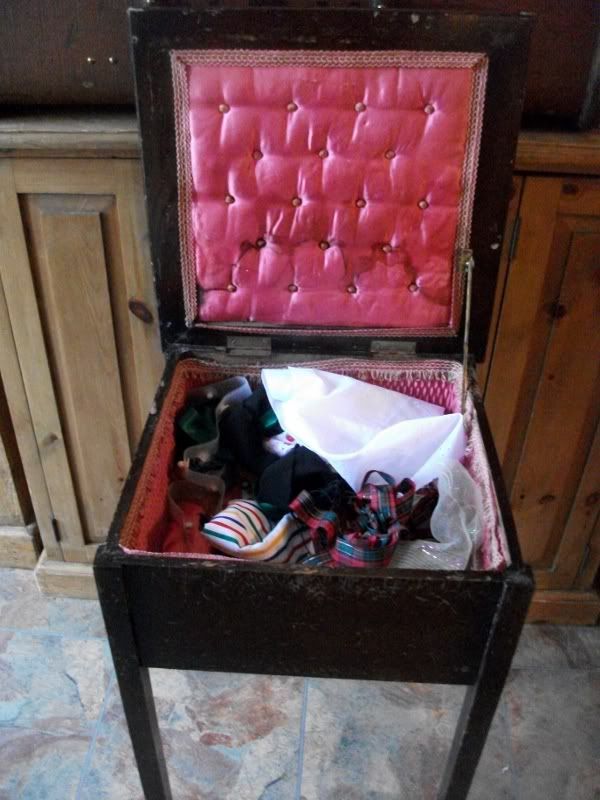 and finally the piece de resistance
I have discovered a site called
Preloved
.... a great site for secondhand bargains .... I have been hankering for some leather sofas for a while as my two fabric ones have taken a battering over the years and as I childmind new sofas were out of the question. There was an ad for not one but two Marks & Spencers dark blue leather sofas which was just what I was looking for and I had to rub my eyes as the asking price was just £120 for BOTH of them! They are £1500 each in the M & S catalogue.
They were only a 20 min drive away so off I went yesterday for an inspection and I couldn't believe my luck .... one is immaculate and the other has a few signs of wear to the cushions but nothing major so I didn't quibble ..... paid my hard earned and arranged for them to be collected late yesterday afternoon.
I hired a carpet cleaner and I've been like a woman possessed this morning sprucing everything up while the weather is still mild enough to have all the windows and doors open to dry it off.
My brain is whirling with ideas for blue & white cushions and throws and as I have been squirrelling away lots of B & W fabric guess what I'll be doing this week ;-)