I've been MIA lately due to lappy problems .... my old faithful packed up and the new one I received last week has a dodgy charger which had to be sent back ... I am hoping the new one, which is due tomorrow, will get me going again. I am babysitting at my daughter's at the mo so I'm availing myself of her notebook facilities ;-)
A couple of weeks ago I blogged about an old dresser top that I was going to paint
here
- well it's finished and is now hanging above my sewing table in the spare bedroom. I must add however that it is not as tidy as this photo now ..... the table is covered in fabric strings ready for blocking.
I have dusted down some of my nick nacks old and new and now can't wait to get started on my big dresser top downstairs. The paint used was Laura Ashley egg shell in Linen.
I am hoping that my blue & white collection will stand out more on the Linen background rather than this orange pine colour. It's a big job though as it is about 5' x 4' with a row of little drawers and I am going to paint in in situ because it is too damn heavy to take down and put up again!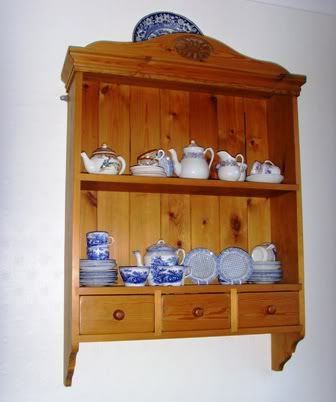 Then this is next on the list!